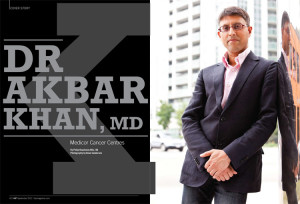 Akbar Khan is the founder and Medical Director of Medicor Cancer Centres. For the last 21 years, his primary practice has consisted of providing personalized care by focusing on a limited number of cancer patients. This has given him extensive experience in dealing with the unique, complex and varied issues that cancer patients and their families face.
Dr. Khan has always been active and innovative in the field of cancer care. In 1999, he co-founded P.A.L.I.N., a registered charitable corporation which addressed the needs of cancer patients requiring at-home symptom control and enhanced quality of life. Working as the co-director of this charity gave him the opportunity to develop a range of unique services including:
unique new tests and treatment options
combining conventional and non-traditional therapies
expert pain and symptom management, and other quality-of-life enhancements
specialized in-home Emergency Kits
concise printed and computerized patient traveling records
customized standing orders (instructions that allow nurses and family members to safely deal with urgent problems).
Since 2007, Dr. Khan gained international recognition and has been treating patients from all over the world due to his unique non-toxic approaches to cancer treatment. He is privileged to be the first doctor in the world to prescribe off-label DCA to treat cancer with positive results. As a result, he now has the most DCA experience of any physician in the world with over 2000 cancer patients treated. He also has taken the refreshing approach of openly sharing the results of his treatments with the not just the medical community, but with the public through this website in the form of observational data and case reports. This allows patients and physicians everywhere to benefit from his knowledge, and learn to use DCA safely and effectively.
In 2013, Dr . Khan was honoured to be contacted by Dr. Ken Matsumura of Berkeley California, with the news that Medicor was selected to be the first Canadian clinic to offer S.E.F. Chemotherapy* (pronounced "safe" chemotherapy), a unique and powerful chemo-immunotherapy. Although Dr. Khan first discovered Dr. Matsumura's amazing research in 2006, a "Safe" Chemo clinical trial was still under way at the time, so the therapy could not be given in Canada. After completion of the trial, Dr. Matsumura began preparation to open a new satellite clinic. Thankfully, Medicor was selected to administer this amazing therapy. Over the past year, Medicor patients have benefited greatly. With low side effects and strong responses seen in over 90% of stage 4 cancers, this therapy is sure to generate some excitement as word of it gradually spreads through the community.
Through ongoing advancement, Dr. Khan has created a cancer clinic which allows patients to receive optimized care by integrating conventional,  naturopathic and off-label therapies. He is constantly exploring unique and cutting edge solutions to the varied problems that cancer patients and their families face on a day-to-day basis. His compassion and willingness to work with patients' unique needs make him the ideal leader of Medicor Cancer Centres' team.
* S.E.F. chemo ("Side Effect Free" chemo, pronounced "safe" chemo) is a servicemark of the Berkeley Institute International
.
Dr. Khan's Fun Page – our Medical Director shares something personal.
.
Dr. Khan's Publications
Long-term stabilization of metastatic melanoma with sodium dichloroacetate. Khan A, Andrews D, Shainhouse J, Blackburn AC, World J Clin Oncol 2017 8(4):371-377

Long-term stabilization of stage 4 colon cancer using sodium dichloroacetate therapy. Khan A, Andrews D, Blackburn AC, World J Clin Cases 2016 Oct 16;4(10):336-343
A Novel Form of Dichloroacetate Therapy for Patients With Advanced Cancer: A Report of 3 Cases. Khan A, Marier D, Marsden E, Andrews D, Eliaz I., Altern Ther Health Med. 2014 Oct;20(S2):21-28.
"Long-term remission of adenoid cystic tongue carcinoma with low dose naltrexone and vitamin D3 – a case report", Khan A, Oral Health Dent Manag. 2014 Sep;13(3):721-4.
"Chemotherapy-Induced Peripheral Neuropathy", Corradetti R, Khan, A, Journal of Integrated Healthcare Practitioners, July 2014
"Vitamin E: Obstacles and Opportunities in Cancer Prevention and Treatment", Khan A, Stavros E, Kroeker A, Journal of Integrated Healthcare Practitioners, Sep 2013
"Individualizing Chemotherapy using the Anti-Diabetic Drug, Metformin, an Adjuvant: An Exploratory Study", Bradford, S, Khan A, J Cancer Sci Ther 2013, 5.3
"Case Report of Long Term Complete Remission of Metastatic Renal Squamous Cell Carcinoma After Palliative Radiotherapy and Adjuvant Dichloroacetate", Khan A, Advances in Cancer Research and Treatment, Vol 2012 (2012) [Epub]
"Use of Oral Dichloroacetate for Palliation of Leg Pain Arising from Metastatic Poorly Differentiated Carcinoma: A Case Report."
Khan A, J Palliat Med. 2011 Apr 12. [Epub ahead of print]