SEF CHEMO IS NO LONGER AVAILABLE IN CANADA. WE ARE UNABLE TO PROVIDE THIS THERAPY DUE TO THE COLLEGE OF PHYSICIANS AND SURGEONS RESTRICTIONS. CANCER PATIENTS RECEIVING THIS LIFE-SAVING THERAPY MUST TRAVEL TO CALIFORNIA OR SEEK OTHER TREATMENT. READ THE PRESS RELEASE

---
CASE REPORT – breast cancer, stage 4, triple negative, declined standard chemo

The most obvious and dramatic results with SEF Chemo have been achieved in breast cancer patients with large visible tumours (especially those growing through the skin), who have not had prior chemotherapy. In these patients there is no difficulty in determining response because it is visually evident. The limitations of CT scans in measuring the response to immunotherapy (like SEF chemo) are avoided. We have treated 4 such patients, with rapid responses in all of them. This includes estrogen receptor positive breast cancer and "triple negative" breast cancer (estrogen / progesterone / HER2 negative). Note that this case is not a rare example of what can be achieved, but this represents the typical response of the small group of 4 chemo-naive patients.
WARNING: Graphic images are presented of a tumour growing outside the body. Please scroll down only if you are comfortable viewing such images.
This 60 year old female developed a breast mass which was confirmed to be triple negative infiltrating ductal carcinoma by core needle biopsy. The patient saw a surgeon who determined the tumour was attached to the pectoralis muscle. Pre-operative cytotoxic chemotherapy was recommended to reduce the mass, in order to allow a successful operation without partial removal of the muscle. The patient educated herself about the risks and benefits of cytotoxic chemotherapy and declined to take this therapy. Over the course of approximately 1.5 years the patient tried various natural therapies and non-toxic off-label allopathic drugs (including DCA). Finally she decided to try SEF chemotherapy, since substantial reduction of the mass was not achieved with gentler therapies. The photos below show the progression of the therapy from pre-SEF to completion of 6 cycles of carboplatin AUC4 (2 week cycle) with mesna as a cytoprotective. After all visible tumour was gone, 3 extra cycles were completed to increase the chances of long-term remission.
Before SEF chemo (after failure of natural and gentle drug therapies):
Mass is bleeding and oozing from dead cancer cells on the surface and infection.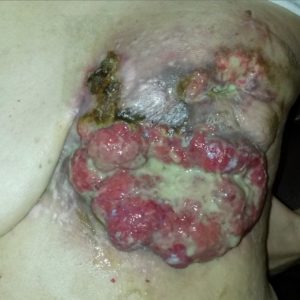 After 3 cycles of SEF chemo:
Most of the tumour mass has died and fallen off, small amount of residual tumour in the center. Bleeding has almost stopped.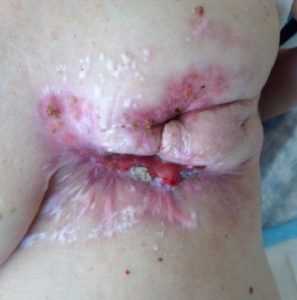 After 6 cycles of SEF chemo:
The massive defect left by the dead tumour has healed with scar tissue (pink).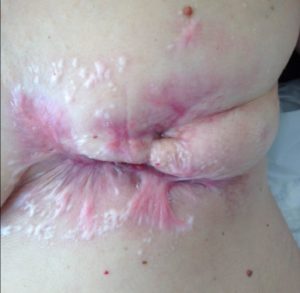 A total of 9 cycles of SEF chemo were completed. A surgeon was consulted who confirmed no detectable live tumour remained. The patient was given the option of having surgery to clean up the scar tissue. The patient experienced almost zero side effects during SEF chemotherapy. The most serious side effects were:
a) reduction of absolute neutrophil conunt to 0.8 after cycle #3 (corrected with a small mesna dose adjustment)
b) reduction of platelet count to 66 after cycle #6  (corrected with a further mesna dose adjustment).
Blood cell counts at completion of therapy (3 weeks after cycle 9) were: HB=118, ANC=3.5, PLT=142
It is interesting to note that despite the fall in blood cells, therapy was continued without interruption simply by correcting the mesna dose. This would be impossible with standard chemo, since administration of further chemo with ANC=0.8 would likely cause a life-threatening infection, and administration of further chemo with a platelet count of 66 would likely cause a life-threatening bleeding. In fact administration of further chemo in both of those situations would constitute malpractice in conventional oncology! This clearly illustrates the tremendous difference between standard chemo and SEF chemo.
---
OTHER CASES WILL NO LONGER BE UPDATED AS THE SEF CHEMO PROGRAM HAS BEEN STOPPED